CELEBRATING 41 YEARS IN
NORTH EAST, PENNSYLVANIA!
Vickey Graphics was established in 1969 by owner Michael Vickey. In 1976 a move was made to the Lake Erie vineyard country of North East Township, Pennsylvania. The pleasant rural lakeside surroundings are inspirational for providing creative graphic design and artistic printing for our clients, both locally and globally.
Specializing in tasteful, traditional graphic design, pride is taken in making our work legible, with creativity that is steeped in tradition.
The Nickel Plate Press is part of Vickey Graphics, the area's longest established first-class letterpress printer. In addition to a vast archive of historic and original artwork and engravings, we have in our collection more than 500 handset metal and wood types, some more than 150 years old. We have also merged 21st Century digital design with the traditional craft of letterpress.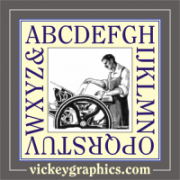 Vickey Graphics
Established 1969
Located in the Lake Erie Vineyard Country of Northwestern Pennsylvania